English is often approached as a science with an emphasis on dissection and analysis and the mechanics of spelling and punctuation.

Of course, this is important. However, many children respond well to English when it is taught as an arts subject with an emphasis on play, creativity and right-brained exercises that help them connect with ideas that interest them. Once you improve the content, then you have something worth punctuating!

I have designed these Creative Writing packages so everyone can sample a right-brained approach to English.

I apply the same principles when I tutor English up to GCSE level and have been delighted with the positive response from pupils, even the very reluctant ones!

Powered by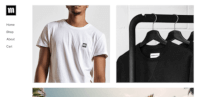 Create your own unique website with customizable templates.